Any professional gambler will tell you that horses are not machines and will not always perform as expected.
However, a good starting point is to have a consistent system by which to compare data for horses in a race and to prepare a rating for each horse using that data.
You Don't Have To Work Hard......Our PGP Race Choice software will do the data analysis for you.
All of the difficult stuff is done behind the scenes.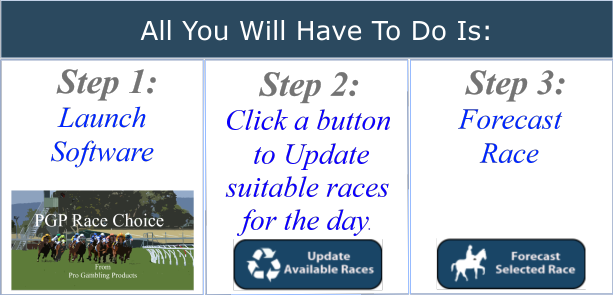 Take a look at our brief video below to see just how simple our software is to use.
Imagine the excitement professional gamblers from decades ago would have had if they saw this software.
We haven't had it so good when it comes to the available horse racing data we have today. However, all of this information does present us with a problem.......what information to use to help us in our investment opportunities?

PGP Race Choice:
uses up-to-date 'form' figures which when added to other 'important' elements of data shows the strength or weakness, via its ratings, of each horse measured against the competition.
does NOT list any race where there are any 'unknowns'.
The amount of information available is massive and to avoid you having to waste time learning what to do, or pondering what it all means, it has been our aim to put together the data we think important to provide a sensible forecasting system.
From today onwards, you will be able to get the most out of our software without even having to try half as hard as the gamblers from past generations.

If you're looking for something powerful that isn't complex, whether you're a beginner or an expert, then PGP Race Choice software is just the thing.
Our software will not dictate how you bet...it will select and list the UK Mainland races which meet our system criteria and you are then at liberty to select any race from the list for forecasting.
Each and everyone of us will have his/her own approach to gambling and with PGP Race Choice software we are trying to rate each horse to provide a better picture for your betting activity.
If you are currently using a manual system to evaluate races then why not convert to our PGP Race Choice automatic forecasting software; picking horses will be so much easier.
NO monthly tipping fees to pay.......for a one time payment, PGP Race Choice will get you up and running fast.
No more worn-down pencils and scattered pieces of scrap paper; just launch PGP Race Choice and get forecasting winners.


Immediate Download
PC Compatible
Minimum Operating System Required
Windows 7 (sp1)
Broadband Connection